Journal of Environmental Law and Policy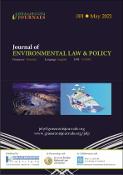 Автори
Анотація
Journal of Environmental Law and Policy is an international, interdisciplinary journal that facilitates an understanding of environmental governance, policy and law issues not only by drawing upon and contributing to the environmental social sciences, but also linking the ecosystem health, natural resources, and social sciences. The aim of the journal is to promote communication among academia, government, business and industry, civil society groups, citizens' action groups, and non-governmental organizations who are instrumental in the solving of environmental problems and grassroots level issues.
Опис
CONTENTS: Hossain, Kamrul. Environmental Justice and Inclusions. Inaugural Editorial / Kamrul Hossain. - P.1-5 Opeyemi, Adewale Gbadegesin. Charting the Course for a Blue Economy in Nigeria: A Legal Agenda / Adewale Gbadegesin Opeyemi, Simisola Akintola. - P.6-25 Arjjumend, Hasrat. Analysis of Indian and Canadian Laws Regulating the Biopesticides: A Comparison / Hasrat Arjjumend, Konstantia Koutouki. - P.26-46 Suietnov, Yevhenii. Formation and Development of the Ecosystem Approach in International Environmental Law before the Convention on Biological Diversity / Yevhenii Suietnov. - P.47-85 Periyasamy, Palani. Assessment of Environmental Damage and Policy Actions by Using Contingent Valuation Method: An Empirical Analysis of Sago Industrial Pollution in Tamil Nadu, India / Palani Periyasamy, Rajendran Sagar. - P.86-104 Ievgeniia, Kopytsia. The Legal Regulation of Climate Change in Ukraine: Issues and Prospects / Kopytsia Ievgeniia. - P.104-125 Rinata, Kazak. / Kazak Rinata. - P.126-135
Бібліографічний опис
Journal of Environmental Law and Policy / The Grassroots Institute. - Montreal : The Grassroots Institute . - ISSN 2564-016X 2021г. May 001 . - 143 p.